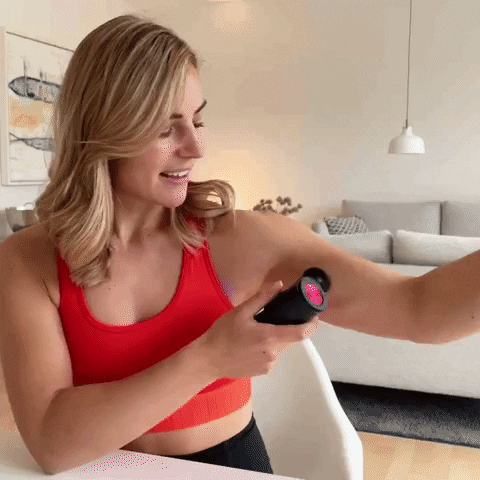 Versatile massage: back, shoulders, neck, arms and legs. With 4 different intensity levels and 4 different attachments. Massage your muscles and fascia highly effectively in a minimum of time.
Regeneration for your muscles: Targeted vibrations stimulate your blood circulation, allowing your muscles to regenerate faster.

Ideal for before and after training: additionally support the regeneration of your muscles with effective deep massages after your EMS training. The vibration ensures deep relaxation of the entire musculature.
Up to 60% faster muscle regeneration: Your muscle tissue is massaged powerfully and effectively. Always ready for use thanks to new battery technology. Housing made of high-quality aluminum.

Frequently asked questions & answers
What does delivery in 36 hours mean?
Shipping is direct from Germany with DHL. This means we can guarantee fast delivery within an average of 36 hours. You will receive a tracking number for every order.
12 months guarantee on your product

With our products you are protected at all times. If something is wrong with your massage gun, we will send you a replacement free of charge for the first 12 months. You can find more information here
30 days right of return: do I really get my money back?
Yes! You can return any product within 30 days and we will refund your money without any ifs or buts. You can find more information here
How do I request a return?
Write us a message with the subject "Return" via the contact form . We will arrange your return immediately.
The delivery time is 1-2 working days within Germany, 2-4 working days to Austria and 2-6 working days to the EU. Shipping is free in Germany. You can find out the shipping fee to other countries here .