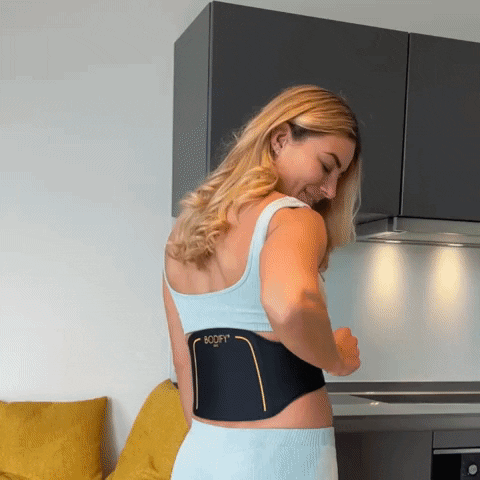 By far the most powerful EMS back trainer: With the new Bodify® A3 chip you increase your muscle build-up by up to 40%. Your back muscles are trained in a more focused and effective way.

Ideal for anyone who wants to train even more effectively: The back trainer pro strengthens your back muscles and improves the posture of your back. For targeted muscle building and effective prevention of back pain.

Up to 40% more effective EMS back training: With our back trainer pro you can train even more effectively and efficiently strengthen your lower and middle back. Due to enhanced battery technology, the trainer can now run for up to 30% longer on a single charge.

Suitable for any back circumference: As a belt, the EMS trainer has an improved hold. The trainer is suitable for all back circumferences, thanks to the optional belt extension.

25 min intensive muscle training with 15 different levels: For beginners and advanced. The best alternative to suits in EMS studios.

📞 +49 176 85254881 ✉️ hallo@bodify.me
Frequently asked questions & answers
Does EMS training really work?

Yes! Bodify uses electronic muscle stimulation to simulate natural muscle contraction. Your muscles are trained and stimulated to grow. Electro-stimulation accelerates your muscle growth.

When is success visible with EMS training?

Within your first 4-12 weeks of EMS training, you will feel the first results. In this time you will feel how your muscles strengthen and the posture of your spine improves.

How fast can you build muscle with EMS?

A study by the Cologne Sports University shows that muscle growth can be seen after just a few weeks. The muscle mass on the bodies of the participants increased by more than 14% after just under 4 weeks.

Does EMS help against back pain?

With the help of EMS training you can strengthen your back muscles. Stronger muscles in your back provide lasting relief for your spine and can therefore prevent back pain. At the same time, stronger muscles improve your posture.

EMS at home or in the studio? What is the right choice?

With Bodify you train all by yourself and can get to know EMS training for yourself. You save yourself the high costs and you can still see a difference in your body after just a few weeks. The effectiveness of your training at home is in no way inferior to that in a studio!

How long does a training session last?

A training session lasts 25 minutes. You can choose between 15 different intensity levels before or during the program. Our trainers go through a varied training program which is suitable for beginners and advanced users.

Care and cleaning

Before you start your training, you should make sure that your skin is free of cream or deodorant residues. In this way you ensure that the trainers adhere perfectly to your skin, even with intensive use. Once in a while you can wash the pads under cold water and air dry. Remember to remove the controller first.

What does delivery in 2-4 days mean?

Shipping is direct from Germany with DHL. This means we can guarantee fast delivery within an average of 2-4 days. You will receive a tracking number for every order.

12 month guarantee on your trainer

With our EMS trainers, you're always covered. If something goes wrong with your controller or pads, we will send you a replacement free of charge for the first 12 months. Find more information here.

30 days right of return: do I really get my money back?

Yes! You can return all trainers within 30 days and we will refund your money without any ifs or buts. Find more information here.

How do I request a return?

Write us a message with the subject "Return" via the contact form. We will arrange your return immediately.